Scientists in Mongolia, are claimed to be examining a 200-year old mummified Lama, who is in deep meditation and still alive.
The preserved body of the monk, sitting in the cross-legged lotus position (Padma Vajrasana), was discovered last week, covered in cattle skin, in the Songino Khairkhan district of the capital, Ulan Bator in Mongolia.
The ash-coloured mummy has reportedly been sent to the National Centre of Forensic Expertise in Ulan Bator for further study. The mummified monk is generally thought to have died in the 19th century.
Local media said a 45-old-man had been arrested because the monk's body had been stolen from a cave with the intention of selling it off. It was unclear in what circumstances it was originally found.
Gankhüügiin Pürevbat, the founder of the Mongolian Institute of Buddhist Art at Ulan Bator Buddhist University, told the Siberian Times, a news website: "The lama is sitting in the lotus position vajra, the left hand is opened, and the right hand symbolises of the preaching Sutra.
'This is a sign that the lama is not dead, but is in a very deep meditation according to the ancient tradition of Buddhist lamas".
Experts on Buddhism has their say that the monk could be in "tukdam", a kind of deep meditative state that crosses over between life and death. Tukdam is an honorific term for meditative practice and experience that is frequently used to refer to the period following the death of a great master, during which time they are absorbed in luminosity.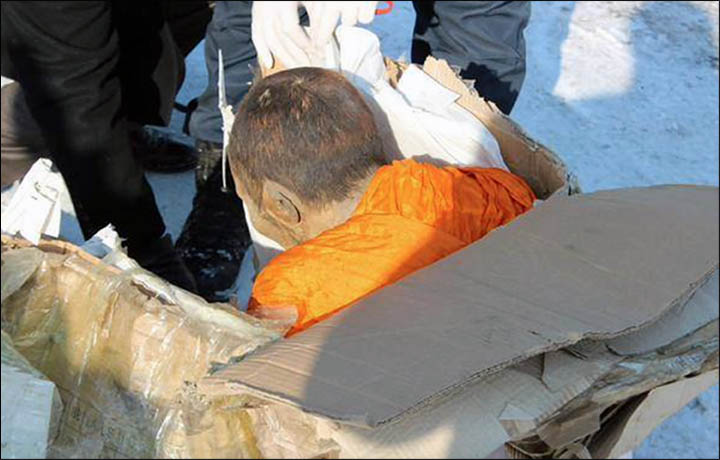 In a similar case, the body of Dashi-Dorzho Itigilov, a lama in Russia's Buryatia region, showed few signs of decay when it was exhumed in 2002. Monks say Itigilov is "not completely dead" and the temperature of his body rises during ceremonies at the monastery where it is kept near Ulan Ude.
Itigilov died in 1927 while meditating, having asked fellow monks to bury him in the lotus position after he passed away. His body was packed in salt.